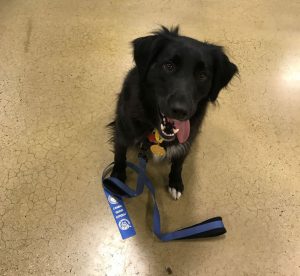 Much like toys and art, animals create an opportunity for a window into the soul. They provide a non-threatening means of developing self-awareness by allowing your child/teen to interact and discuss their emotions with the animal as a buffer.
Porter is our rescue pup. Though we don't know anything about his early history, we are certain he was born to help others. After his initial wiggling upon greeting you, Porter has a calm demeanor and is very gentle with children.
He is a Canine Good Citizen, a certification awarded by the American Kennel Club designating dogs who have demonstrated the capacity to behave well in public. He is currently in training to be a certified therapy dog.
He is quick to notice worry and anger and will often seek to calm you with a paw on the lap or requesting to be petted.
He helps children and teens understand their impact on others, as well as build insight by watching his emotional expressions. His presence often creates a sense of comfort in the room to allow for deeper therapeutic work.
Porter is relentless with a ball. He will chase it for hours….with.few.breaks… I'm not exaggerating; I've got a tennis ball graveyard to prove it. He has a soft mouth, and is very gentle with kids when they get too excited and try to grab toys from him.
He does initially have a great deal of energy when greeting. His whole body wags when he meets you. Think of your baby when she heard music for the first time. It's that kind of wiggle. This is why he's not fully certified yet– I want the test to be a successful experience for him because they are infrequently scheduled in our community.
More about Porter: He enjoys long walks on the beach, but hates the waves. He LOVES blueberries. He works really hard to earn his treats, and is very smart and easy to train. Licking faces is his third favorite thing (after fetching and chasing rogue blueberries in the house.) He can't wait to meet you!